NEWS
--
NOV 2020
Pazugoo at SPLITTING THE ATOM , Vilnius Contemporary Art Centre, and Museum for Energy and Technology
EXHIBITION WEBSITE
'By the beginning of the new millennium, evidence of everyday experience of radioactive contamination through nuclear testing, uranium mining, and colonial exploitation combined with the dangers of radioactive waste was better understood and radically influenced how artists consider nuclear aesthetics.
Today nuclear culture explores questions of deep time contamination, colonial nuclearity and radioactive waste management as well as the need to disarm. Practical concerns caused by aging technologies and radioactive waste become graver and increasingly urgent every day. While this work takes place, nuclear technologies continue to penetrate different aspects of our everyday life; and we know that radioactive fallout particles will remain across the surface of our planet forever. '
installation shots:
Pazugoo Index
(2018) &
Double Flight Diagram
(2020), CAC (Contemporay Art Centre), Vilnius;
Pazugoo Index
(2018), Energy & Technology Museum, Vilnius.
----
OCT 2020
Digital Ecologies: Fiction Machines
Guest edited by Dr. Tony D. Sampson (UEL), Dr. Andy Weir (Arts University Bournemouth) and Dr. Charlie Tweed (Bath Spa University)
Welcome to the fifth issue of the International Journal of Creative Media Research. This Special Issue, titled Digital
Ecologies: Fiction Machines, has emerged from the symposium of the same name that took place at Bath Spa University in July 2019 and was organised by Charlie
Tweed. The symposium featured keynotes from Professor Simon O'Sullivan (Goldsmiths) and Dr. Tony D. Sampson (UEL),
alongside a diverse range of responses from artists and researchers using fictional methods within their work.
LINK TO JOURNAL
---
JULY 2020
Just written this - extended draft version of some papers I've given lately:
GEO-FICTIONALISING THE ATOMIC PRIESTHOOD: THE SPECULATIVE ETHICAL CALL OF THE ARTWORK AS FUTURE RELIC
MAY 2020
Now open May 21st to August 29th, at Z33
THE WORK OF TIME
Technological progress will give people more free time. That's what economist John Maynard Keynes predicted in 1928. Strangely enough, almost a hundred years later, it seems that time is under increasing pressure. If you can't keep up, if you are slow, you lose. Resulting in restlessness, stress and exhaustion, not only for ourselves, but also for the planet.
The Work of Time is an exploration of the relationships between time, knowledge and learning. What does 'free' time mean when everything is about efficiency and speed? If machines have already calculated what we think, feel and desire in a fraction of a second, is there any room left for slow human processes such as doubt, dialogue, democracy … imagination? And what happens when we think on a totally different scale, not characterised by increasing speed, but – to the contrary – by extreme inertia. Current problems such as the climate crisis or dealing with nuclear waste require urgent action, but at the same time these issues force us to think far beyond our own understanding of time.
The Work of Time is a plea to break away from time as we are used to experiencing it. The artists shift our attention to other dimensions of time such as inner time, biological time, dream time to the deep geological time of the earth. The installations propose a different, more intense experience of time, in which wordless conversations are depicted in sand, machines trigger curiosity, the clock is translated into a space, a film invites to sleep, or in which the concept of 'deep time' is represented in forms and stories.
Curator: Ils Huygens
Artists: Judith Seng, Nelly Ben Hayoun-Stépanian, Teis De Greve, Commonplace Studio, Tim Knapen & Jesse Howard, Maarten Vanden Eynde, Alexis Destoop, Ecole Mondiale, Helga Schmid, Danilo Correale, Andy Weir, Thomson & Craighead.
image - research for new work based on local myths of the land in Mol-Dessel / Postel, Belgium
__
JAN 2020
Result of collaboration by artists Harry Meadows and Andy Weir for the MECHANICAL HUMAN exhibition in AUB Gallery, this new work collects data on the AUB gallery climate, and turns that data into a dialogue between human voice and sensor sculpture.
image - Taylor Stankowski performs Backscatter Grill / Gallery Climate Personification (2020)
-----
JULY 2019
On my way to Bath Spa University for this event
Digital Ecologies II: Fiction Machines
I'm presenting a paper here on 'Geo-fictionalising the Atomic Priesthood', and doing a collaborative performance with Harry Meadows - 'Specificities of the Planetary Room'.
I'll also be chairing a panel, then co-editing a special journal edition from the event afterwards, so more info. to come.
--
JUNE 2019
I'm just back from the 'Art and the Anthropocene' conference at Trinity College Dublin. Saw and heard a lot of interesting stuff. I presented a paper on Pazugoo, nuclear materiality and Gabriel Hecht's concept of the 'Interscalar vehicle' which I'll write up and share when I get a chance.
I'll also present a version of this research at 'The Problem with Truth', Arts University Bournemouth Research Conference, Fri 28th June. I'll talk a bit more about Elizabeth Povinelli's work here too.
----
MAY 2019
I'm at the Neuhaus exhibition at Het Nieuwe Instituut, Rotterdam -
a temporary and transdisciplinary academy for more-than-human knowledge
I've made a new Pazugoo installation, including new 3D-prints, in the exhibition, and I'll be back in July to run a new workshop. The exhibition runs until September.
I'm showing my work within the
Z33 Project - Learning from Deep Time
----
APRIL 2019
I'm just back from the Modern 2020 conference in Paris, on Monitoring in Geological Disposal of Radioactive Waste. I presented a poster with Ele Carpenter arguing for the role of Networked and Distributed Art in this context, Ele did a great talk on this too. I then took part in a roundtable discussion on forms of citizen participation.
----------------
NB - UPDATING WEBSITE, I'm currently in the process of updating this site with projects I've been working on over the last couple of years, check back soon to see more.
----------------------------------------
some photos from Pazugoo at Perpetual Uncertainty, Malmo Konstmuseum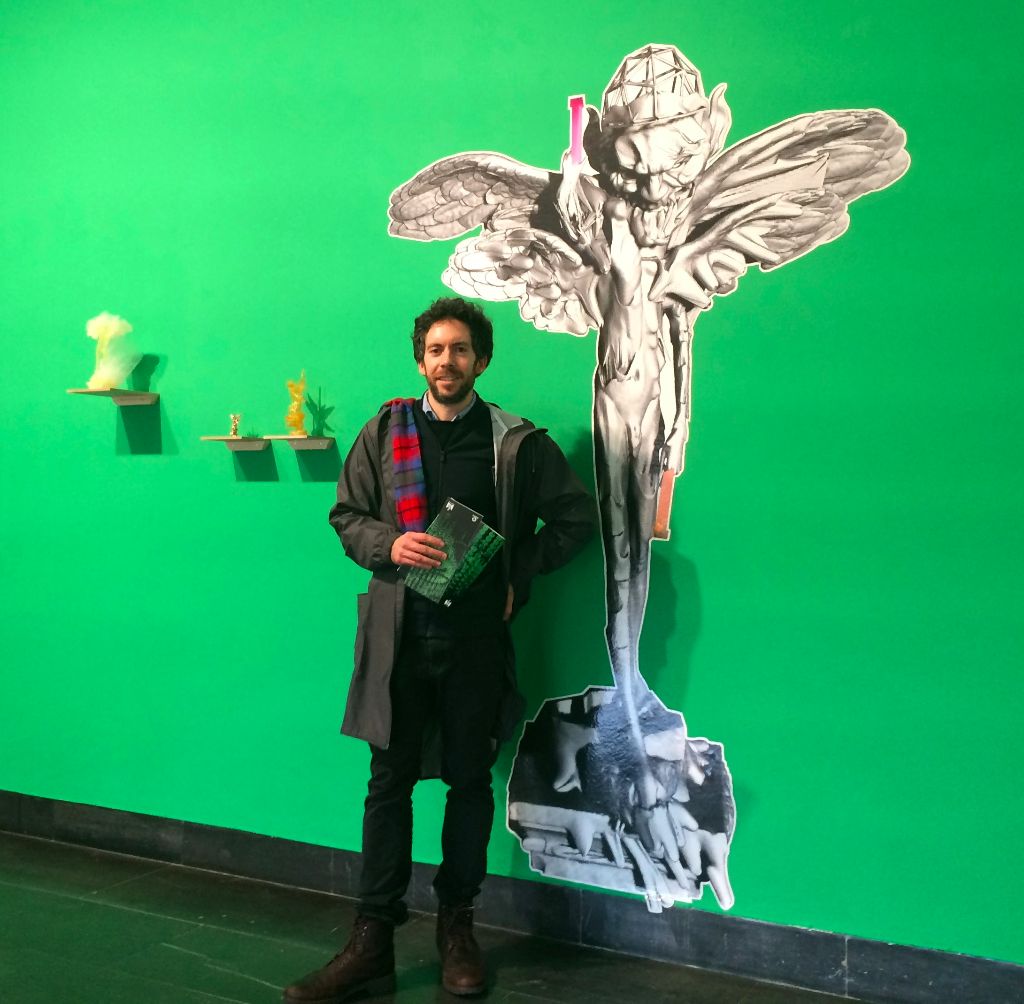 Interview
with Regine Debatty (We Make Money Not Art) on Pazugoo in the
Z33 Exhibition, Belgium
....
A DC-9 sampled 'bitching betty' machine voice whispers into your ear etc.. Turn immunization to autophagic dieback (sic) Your throat is slit while it continues to whisper into your ear that everything is going to be ok. stop. Radiation erases data, drone loses connection to operational controller spiralling into rock. Paranoia collides with quartz, mica and rich in plagioclase feldspar into unexpected porphyritic agitation.
So, institute a cold twist operation keep driving tropical modernist soil. spit up. thought on a downward movement, spit, up, he walked in –ertly collapsed motorik. spills and spurts back upwards in a gnarly perforating absolunaut bounce Fields
PVC resins of melted clay plasticize disrupting endocrines. Crystallised from magmas evolved to the eutectic through igneous differentiation, the discounted theory of metasomitism is unearthed. Bokeh spreads to surface glare, stealthy earworm. Pushed up through stoping intrusion and gooey surface leaks, pumped up drone repurposes vision function to compress silica and soda ash, spraying GBU-12 Paveway IIs. Sparks strike sand spiked polyethylene terephtelate branching fulgurite, producing non-crystalline polymer moldavites, which drone-blown exhibit glass transition and cover the surface of the Earth dot dot etcetera dot dot dot
etc.. (ahem) Incite bursts of radio waves re-organizing protons, sparking haemodynamic response for voxel by voxel coding, hydration binders for its granular aggregate and it wants you multi-tranche, securitization crust re-bounce etc.. [from the top] minuted